"I didn't think Aikatsu would be so hard!"

Aikatsu Friends! Wiki needs your help! You can help us expand this stub by editing it!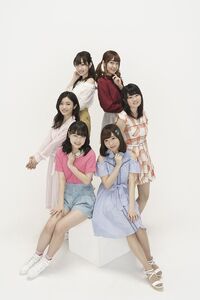 BEST FRIENDS! is a unit consisting of the main seiyuus/singers of the Aikatsu Friends! cast. The members voice and sing for the main characters in Aikatsu Friends!. They go mononymously under the names of the characters they voice in the franchise.
Members
Unofficial Members
Sumire Morohoshi (諸星すみれ) → Coco (ココ) as Coco
Trivia
BEST FRIENDS! is the third unit under the Aikatsu! franchise whose members sing for the characters, following their predecessors STAR☆ANIS and AIKATSU☆STARS

BEST FRIENDS is the first unit whose members also voice the character they sing for.

The members of BEST FRIENDS are the first ones whose songs are credited under their character's names.
Miyama Karen shares the same given name with Kamishiro Karen, although they are written differently.
BEST FRIENDS! it is assimilated to its predecessor STAR☆ANIS

Each one have 2 types of idols of the 4 types